Sport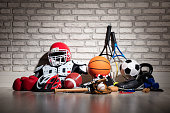 Why should you choose Sport ?
If you enjoy Sport then this course will allow you to study two sports in greater depth (individual and a team), and focus on leadership. It is a mixture of theory and practical and lessons are made as interactive as possible.
Career Options
There are numerous careers and jobs such as a Coach, PE teacher, Physiotherapist. A good grade will lead into completing A'levels and BTEC Level 3 courses and apprenticeships.
What else could you get out of Sport?
We take part in a number of activities and trips and regularly use Pulse fitness in Wednesbury. Opportunities to gain further awards in leadership and officiating are offered. There is also a chance students would be selected to be a PE leader.
How is the course assessed?
The course is assessed through 3 units. Unit 1 R184 1 contemporary issues- written exam (x 1 hour =60 marks). Early entry in January or May of year 10. Issues affecting sports participation, roles in promoting values, implications of hosting a major sporting event, role of NGB's and the use of technology.
Unit 2 R185 Performance and leadership in sports activities-Key components in performance, will complete two sports and take part as a leader, apply practice methods in order to improve, organising and planning a lesson, and lead an activity.
Unit 3 R187 Increasing awareness of outdoor and adventurous activities; Students will study opportunities in local and national areas for different types of outdoor activities, enjoy activities safely, with correct clothing, equipment, facilities and technology in which you need. Plan and be able to participate in an outdoor activity, evaluate participation.
Attitudes to Learning
Students should have a positive attitude and work ethic. The course requires effort and determination. They must enjoy PE both theory and practical. Attending extra curricular activities and representing the school team is an expectation. Students are assessed on their practical ability.