Product Design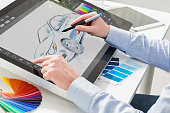 Why should you choose Design Technology ?
Studying Product Design will give you the opportunity to develop a range of skills including research, practical, designing and manufacturing. The subject enables you to investigate a wide range of materials, techniques and processes whilst applying mathematics, science and art knowledge.
Career Options
Careers which this subject can lead to are: graphic designer, manufacturer, engineer, jewellery designer, interior designer, carpenter, joiner, builder, surveyor, teacher, technician, mechanic, product designer. Work is varied, well-paid and rewarding.
What else could you get out of Design Technology?
The subject is hands on and develops your ability to solve problems. It enables you to be creative and think logically. Research skills can be transferred across other subjects studied and it is a valuable vehicle to apply Mathematics, Science, Art and English.
How is the course assessed?
Component 1: Portfolio (60%)
An extended design and make assignment in response to a theme, brief, problem or task.
Component 2: Externally set assignment (40%)
The externally set assignment is based on preparatory study that leads to a ten hour period of sustained focus in which you will produce a response to a chosen theme, brief, problem or task.
Attitudes to Learning
You must enjoy being hands on and working with tools and equipment. However, theory is a very important part of the subject so you must be willing to investigate, evaluate and analyse materials and processes. It is a time-consuming subject so be prepared to attend at lunchtimes and after school.