Geography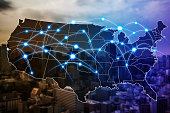 Why should you choose Geography
Geography is a very sought after qualification by colleges and sixth forms. The subject is delivered by staff with exam board marking experience which gives pupils great support, staff are dedicated to your success and have the ability to help you reach your potential. The course is split into human and physical Geography and a skills paper. Many of the skills are transferable and help build your employable skills like communication, problem solving and team work. These make up most of Paper 3 and are the top three most employable skills.
Career Options
Law, science, journalism, conservation, Aid, architecture, civil engineering, advertising and sales, business, environment, nursing, information technology, management, finance, banking, marketing, research, manufacturing, teaching, childcare, engineering and building, arts, design and media, town planning, working abroad, geologist, waste monitoring, strategic planning, GIS system, data entry, data analysist, logistics, management, environmental officers, the list really is endless.
What else could you get out of Geography?
Geography is all around you, you see Geography every day. Your route to school, your choices of food in a supermarket, the holidays you take, the jobs available in the city you live in, the housing stock that is available. Geography gives you an understanding of everything that is going to surround you in the years to come. Geography skills help you make informed decisions. It teaches you to think beyond the textbook. As a traditional subject it is valued very highly by employers and universities. It is also seen as a future proof subject as it will always teach about modern day issues like climate change, trade unions and poverty which is seen in everyday news.
How is the course assessed?
At the end of the course you will take three examination papers.
Paper 1: Living with the Physical Environment. Written exam: 1 hour 30 minutes. (35% of grade) Topics taught for this paper are The Challenge of Natural Hazards (Earthquakes and Weather), Living World (Ecosystems, Rainforests and Hot deserts), Landscapes in the UK, (Coasts and Rivers).
Paper 2: Challenges in the human environment. Written exam: 1 hour 30 minutes. (35% of grade) Topics taught for this paper are Urban Issues and Challenges (Birmingham and Rio), Changing Economic World, (India and UK), The Challenge of Resource Management (Global supplies and Water in the UK)
Paper 3: Geographical Skills. Written exam: 1 hour 15 minutes. (30% of grade) A pre-released resources booklet is made available 12 weeks before exam and we undertake fieldwork for this exam so your skills are practised throughout the two years.
Attitudes to Learning
A positive attitude and a desire to do well is needed. Pupils will be well organised and have a strong ability to take notes. Pupils will want to seek out knowledge from the news, online and from those around them to be able to reach the highest of grades.