Computer Science
An Ebacc Subject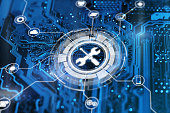 Why should you choose Computer Science
The GCSE in Computer Science is a dynamic and exciting qualification that will help prepare you for the future. Whatever you choose to do in the future (6th Form at Phoenix, College, Apprenticeship or finding a Job) you will certainly need and use ICT skills. The course aims to broaden your knowledge of how computers function. If you are interested in learning about how to make computers do what you want and would like to know what actually happens inside the machine, then this is the course for you. The GCSE in Computer Science aims to not only develop digital literacy skills but programming skills too by learning a new language called Python. In addition you will also learn about what makes computers work and develop key problem solving skills that can applied across a variety of different situations that you will face in life.
Career Options
Computing involves everyone, in every walk of life, so your career opportunities are endless. If you anticipate any kind of work in the computing industry - Graphics / Games Programmer/ Designer, Network Engineer, Computer Programmer, Software Developer, Systems Analyst, Medical Scientist - then Computer Science is highly appropriate.
What else could you get out of Computer Science?
Students who have taken a GCSE in Computer Science and who then progress to study the subject at A Level or University will have a significant advantage over other students who have not studied this subject.
How is the course assessed?
The GCSE in Computer Science has 2 assessment components:
• Paper 1: Written assessment on Computational thinking and problem solving 50%
• Paper 2: Written assessment on theoretical knowledge from subject content 50%
Attitudes to Learning
A Good work ethic is essential as the tasks you will be presented with are real, and will develop skills that you will use in later life. The expertise you will build will last you a lifetime and we will stimulate you with exciting projects and interesting use of top line software packages, as used in the majority of businesses and commercial companies.
~ You must be in Set 1 in Maths and Science to be able to complete course content~